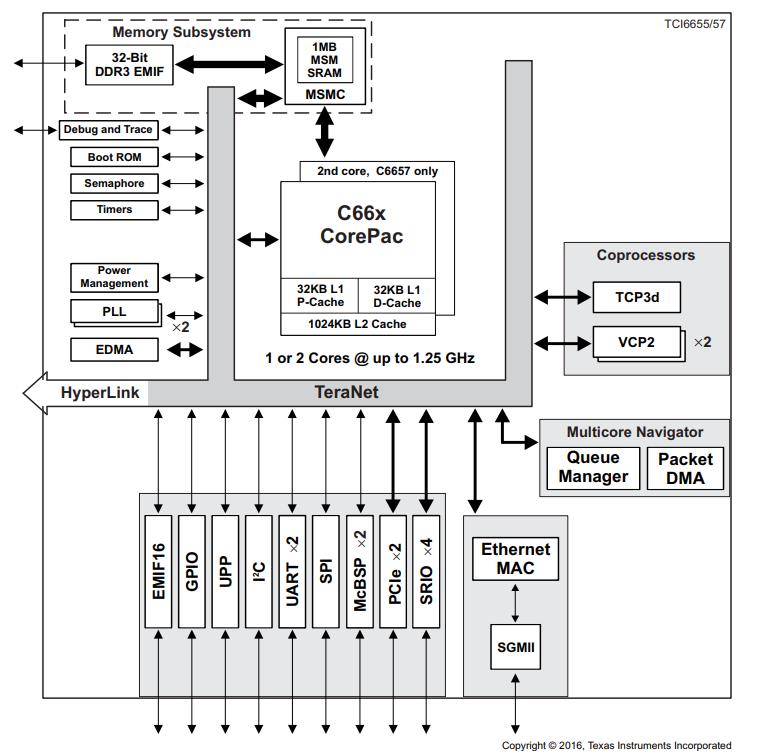 The TMS320C6657CZH is a digital signal processor (DSP) from Texas Instruments, part of the TMS320C66x series of multicore fixed and floating-point DSPs. These processors are built on TI's KeyStone multicore architecture and provide a powerful computing platform for high-performance applications.
Features and Specifications of TMS320C6657CZH:
- 1.25 GHz Dual-Core C66x DSP Cores
- Up to 32GB of DDR3 Memory
- Serial RapidIO and SGMII (Serial Gigabit Media Independent Interface) for high-speed connectivity
- Enhanced Direct Memory Access (EDMA) controller for high-speed data transfers
- Integrated Cryptographic Security
The TMS320C6657CZH is often found in applications such as mission-critical, medical imaging, test and automation, and high-end industrial control. For instance, it can be used to design a sophisticated digital audio processing system.
Pin Connection for a Digital Audio Processing System:
1. Power Pins (AVDD, IOVDD, DVDD): These are the supply voltage pins for analog, I/O, and digital operation respectively. They should be connected to the appropriate power sources with the required voltage level.
2. Ground Pins (AGND, IOGND, DGND): These are the ground pins for analog, I/O, and digital parts of the circuit. They should be connected to the common ground of the system.
3. Multichannel Audio Serial Port (McASP, Pins AXR0 to AXR15): These pins are used for audio data communication. They can be connected to the audio ADCs and DACs.
4. Clock Pins (ACLKX, AHCLKX, ACLKR, AHCLKR): These pins are for audio clock input and output. ACLKX and AHCLKX are for the transmit clock, and ACLKR and AHCLKR are for the receive clock.
Design Considerations:
When designing a system using TMS320C6657CZH, you need to consider the following:
1. Power Supply: Ensure to provide a clean and stable power supply to the AVDD, DVDD, and IOVDD pins.
2. Signal Integrity: Carefully design the PCB layout to maintain signal integrity, especially for the high-speed interfaces like Serial RapidIO and SGMII.
3. Heat Dissipation: Because of the high processing power of the TMS320C6657CZH, ensure proper thermal management to prevent overheating.
4. Programming and Debugging Interface: The JTAG interface should be appropriately designed for programming and debugging purposes.
In conclusion, the TMS320C6657CZH is a robust, multicore DSP that offers high-performance processing capabilities. Due to its qualities, it can be used in demanding applications such as premium digital audio systems. Attention to power supply design, signal integrity, thermal management, and programming interfaces will aid in achieving a successful design.