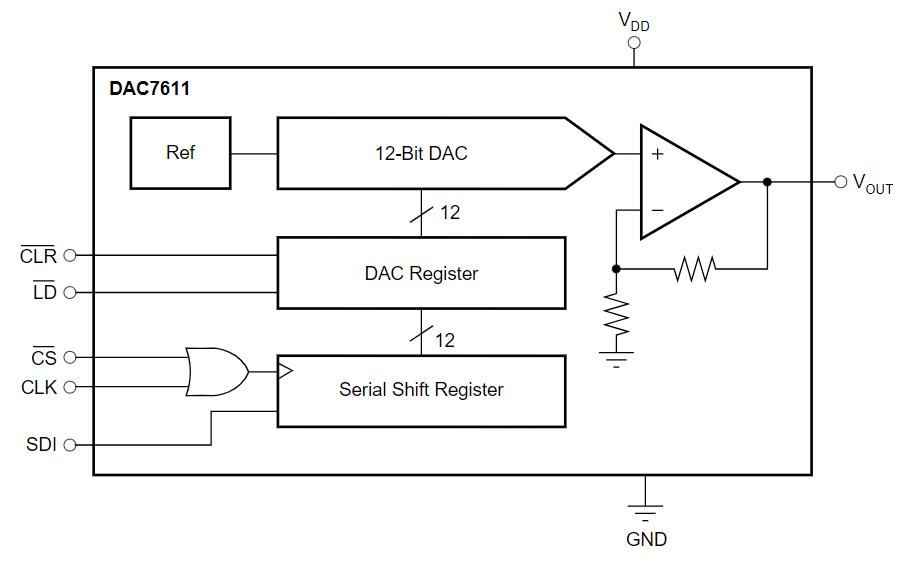 The DAC7611U is a 12-bit, low-power, voltage output DAC that is compact in size. Manufactured by Texas Instruments, the DAC7611U is designed with a precision output amplifier on a chip, offering a comprehensive solution for a digital-to-analog conversion system in a small package.
Key Features of DAC7611U:
1. Single Channel 12-Bit DAC: The DAC7611U operates with a 12-bit resolution, providing precise control over the analog output based on the digital input.
2. Internal Reference: The DAC7611U has an internal reference, therefore many applications don't require an external accuracy reference.
3. Low Power Operation: The DAC7611U is appropriate for battery-powered applications and other systems where power efficiency is important, with a power consumption of under 500 watts.
4. Voltage Output: The DAC7611U is a voltage-output DAC, providing an analog output in the form of a voltage.
Common Applications for DAC7611U:
The DAC7611U finds its application in several systems, including but not limited to
- Process Control
- Data Acquisition Systems
- Portable Instrumentation
- Digital Gain and Offset
Adjustment Detailed Circuit Connection Using DAC7611U: Suppose the DAC7611U is being used in a data acquisition system.
Here are the detailed connections:
1. Power Supply Connections: The DAC7611U operates with a single power supply. The power supply (2.7V to 5.5V) should be connected to pin 8 (VDD) and the ground should be connected to pin 4 (AGND).
2. Digital Input: The digital input is provided via a serial interface. Pin 6 (DIN) is the data input pin, where the digital signal from a microcontroller or other digital source is connected.
3. Clock Input: Pin 7 (SCLK) is the serial clock input, which times the data transfer. It would be connected to the clock signal from your microcontroller or other clock source.
4. Chip Select: Pin 5 (SYNC) is used for chip selection. This pin should be driven low to begin data transmission.
5. Analog Output: Pin 2 (VOUT) is the output pin. The voltage at this pin is controlled by the digital input.
Considerations While Designing with DAC7611U:
While designing a circuit using DAC7611U, you need to keep in mind a few critical aspects:
1. Noise Reduction: As with all DACs, the DAC7611U is sensitive to noise on its power supply and digital inputs. Proper bypassing and grounding are necessary.
2. Clock Signal Quality: The quality of the clock signal is crucial. A noisy or unstable clock can result in an inaccurate conversion.
3. Load Considerations: The characteristics of the load connected to the DAC output can affect its performance. Be sure the load's input impedance is high enough to not overload the DAC's output.
4. Heat Management: Despite the DAC7611U's low power operation, it's always crucial to consider heat management in dense designs to ensure reliable operation.