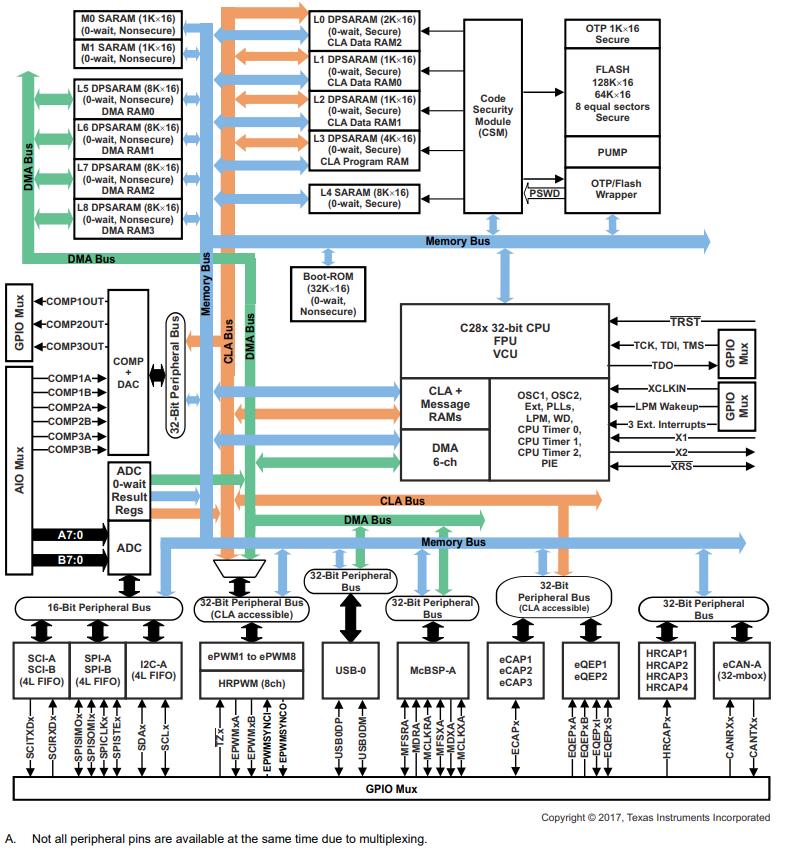 TMS320F28062PZT hails from the C2000 series of microcontrollers from Texas Instruments. These chips are particularly known for their real-time control capabilities. Integrated with a variety of features, the TMS320F28062PZT stands tall as an effective solution for many industrial applications.
Features that Define TMS320F28062PZT :
1. Real-time Control: A specialized 32-bit CPU (C28x) coupled with real-time control peripherals.
2. Integrated Flash Memory: On-chip flash allows for easy program storage.
3. Enhanced Pulse Width Modulators (ePWMs): These allow for precision control, especially beneficial for motor control applications.
4. ADCs and Comparators: Analog-to-Digital Converters for various sensor inputs and integrated comparators for precise signal analysis.
Spotlight on Application: Precision Motor Control:
The TMS320F28062PZT can be implemented in a precision motor control system, managing the motor's speed, direction, and torque through feedback mechanisms.
1. Motor Speed Control via PWM:
- ePWM1A: Connect Pin 1 to the gate driver of the motor to control its speed via pulse width modulation.
2. Direction Control:
- GPIO1 & GPIO2: Use Pins 2 and 3 to manage the H-bridge of the motor, determining the motor's direction.
3. Feedback via Rotary Encoder:
- QEP1A & QEP1B: Pins 4 and 5 can interface with a rotary encoder providing feedback on the motor's position.
4. Temperature Monitoring:
- ADCINA1: Pin 6 can be connected to a temperature sensor, monitoring motor heat to ensure safe operating conditions.
5. Programming and Debugging:
- JTAG_TDI & JTAG_TDO: Pins 7 and 8 are essential for feeding in the program and retrieving output during debugging sessions, respectively.
Design Considerations with TMS320F28062PZT :
- Power Management: Proper power delivery and decoupling are essential. Place capacitors close to the power pins to filter out noise.
- Thermal Issues: Motor control applications often generate heat. Make sure there's adequate heat dissipation for both the motor and the TMS320F28062PZT.
- Signal Integrity: Ensure that signal lines, especially for ADCs and PWMs, are free from interference.
- Firmware Updates: Ensure easy access to programming pins for future firmware updates and debugging.
In conclusion, the TMS320F28062PZT is a versatile chip, perfectly tailored for real-time control applications. Its rich feature set, combined with a robust design, makes it a choice pick for engineers looking for effective motor control solutions.