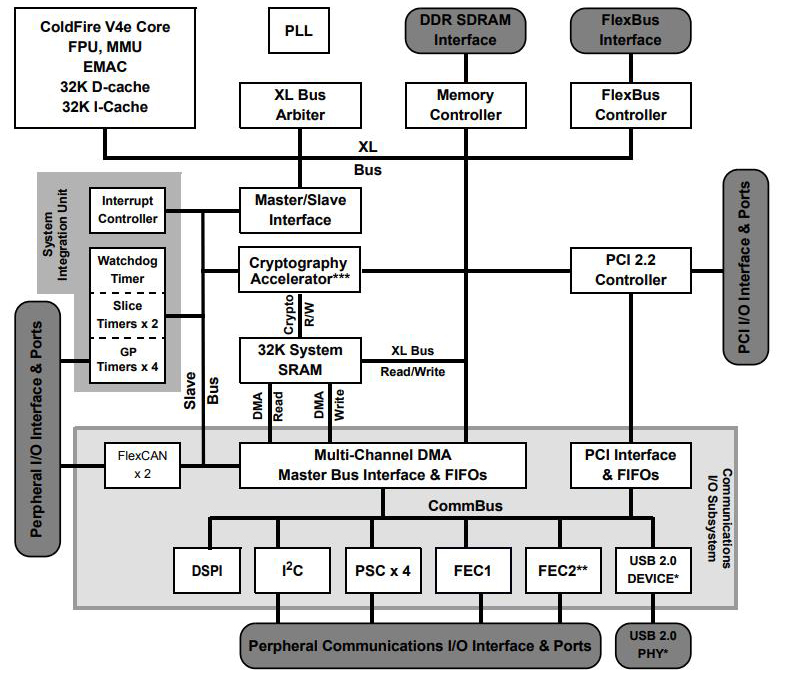 The MCF5484CVR200 is a sophisticated microcontroller chip belonging to the NXP's ColdFire family, and it's designed with various applications in mind.
Functionality:
The MCF5484CVR200 functions as a highly integrated microcontroller with robust processing capabilities and extensive connectivity options.
Application Scenarios:
From industrial control systems to advanced networking devices, the MCF5484CVR200 offers a versatile platform. It's particularly suited to applications requiring high data throughput and advanced networking capabilities such as routers, switches, and gateway devices.
Parameter Features:
1. Core: ColdFire V4 core running at up to 200 MHz.
2. Memory: 256 KB SRAM, without embedded Flash.
3. Communication Interfaces: Three 10/100 Ethernet controllers, two CAN interfaces, four UARTs, and two I²C.
4. Timers: Multiple 32-bit timers and a Watchdog Timer.
5. Package: Available in a 516-BBGA package.
Given the chip's extensive capabilities, one potential application scenario could be in a networking switch. Here is a detailed schematic for that use case:
Circuit Design for Networking Switch:
1. Ethernet Ports:
- ETH0_TXD0-3 (pins 153-156), ETH0_RXD0-3 (pins 147-150), to Ethernet PHY 0 (Port 0).
- ETH1_TXD0-3 (pins 163-166), ETH1_RXD0-3 (pins 157-160), to Ethernet PHY 1 (Port 1).
- ETH2_TXD0-3 (pins 173-176), ETH2_RXD0-3 (pins 167-170), to Ethernet PHY 2 (Port 2).
2. UART Interface (For console management):
- UART0_TX (pin 99) and UART0_RX (pin 100) are connected to a UART to USB converter for console access.
3. System Clock:
- External 25 MHz crystal oscillator attached to EXTAL (pin 488).
- XTAL (pin 487) connected to the ground via a capacitor.
4. Debugging and Programming:
- DSCLK (pin 480) and DSDI (pin 481) were used for debugging.
- RESET (pin 482) to control the reset operation.
- MODCLK (pin 483) connected to a programming/debugging interface.
5. Power Connections:
- VDD (pins 252, 253, 254) for power supply connections.
- VSS (pins 255, 256, 257) as ground connections.
Design Considerations:
1. Power Management: Implementing proper power regulation and filtering to ensure a stable supply.
2. Signal Integrity: Layout considerations to reduce interference and noise, particularly in Ethernet connections.
3. Heat Dissipation: Including proper heat management due to the potential high processing load on the MCF5484CVR200.
4. Fault Tolerance: Adding redundancy and protection features to enhance system reliability.
5. Compliance: Ensuring adherence to networking and environmental standards.
In summary, the MCF5484CVR200 is a robust and feature-rich microcontroller suitable for demanding applications. The design example provided for a networking switch emphasizes the microcontroller's flexibility and power. Implementing a design with the MCF5484CVR200 requires careful planning and consideration of several design factors to achieve a robust and reliable system.