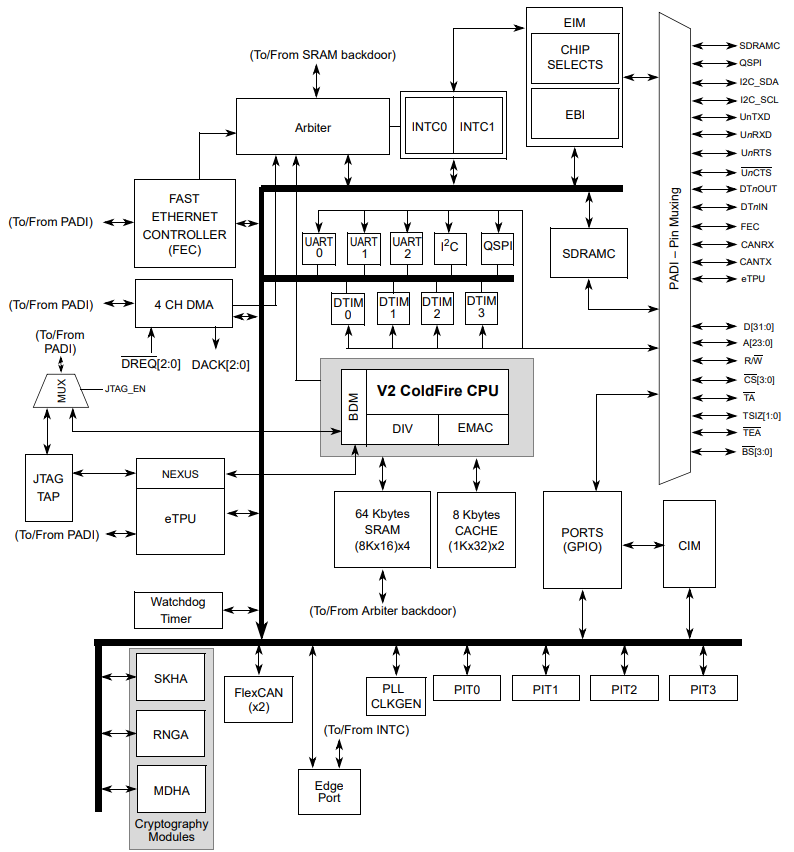 The MCF5234CVM150 is a microprocessor unit (MPU) of the ColdFire V2 family produced by NXP Semiconductors. The MPU is created to meet the requirements of low-power and high-performance applications that necessitate advanced control or signal processing.
Key features of the MCF5234CVM150 are:
- A 32-bit ColdFire V2 core.
- Maximal clock frequency is 150 MHz.
- It includes 16KB of I-Cache and D-Cache.
- Features like the Fast Ethernet Controller (FEC), UARTs, SPI, I2C, timers, DMA channels, and GPIOs are available.
- One such feature is a Memory Management Unit (MMU).
- Functionalities for power-on reset (POR) and low-voltage inhibit (LVI) reset are present.
The MCF5234CVM150 is adaptable and suited for a variety of applications, including industrial automation and controls, networking, and consumer electronics.
Let's illustrate its application using a simple scenario, such as configuring an Ethernet communication network. This requires the MCF5234CVM150, an external PHY transceiver, an Ethernet transformer, and an RJ45 jack.
1. Connecting the Power Supply: Connect the VDD pins (e.g., Pins 2, 51, 65, 79, and 89) to a 3.3V power supply, and the VSS pins (e.g., Pins 1, 27, 40, 64, and 78) to the ground.
2. Setting up the Clock: Connect a 25MHz external crystal oscillator to the EXTAL pin (Pin 69) and the XTAL pin (Pin 70).
3. Setting up the Ethernet Interface: For the Ethernet communication, use the MII (Media Independent Interface) pins, which include MDIO (Pin 93), MDC (Pin 94), RXD[0-3] (Pins 107-110), RX_ER (Pin 105), RX_DV (Pin 106), TXD[0-3] (Pins 111-114), and TX_EN (Pin 115). These should interface with the corresponding pins of an Ethernet PHY transceiver.
4. Resetting the System: Connect the RSTO# (Pin 50) to a reset switch to allow for manual reset of the processor.
Designing a circuit with the MCF5234CVM150 requires considering a few things:
- Decoupling: Use decoupling capacitors near the VDD and VSS pins to decrease noise on power supply lines.
- Thermal Management: Ensure the chip is properly cooled as it may generate significant heat under heavy load.
- Protection: Proper Electrostatic Discharge (ESD) protection should be in place.
For more comprehensive information on its functionalities, configuration, and application, it's always a good idea to refer to the MCF5234CVM150 datasheet.