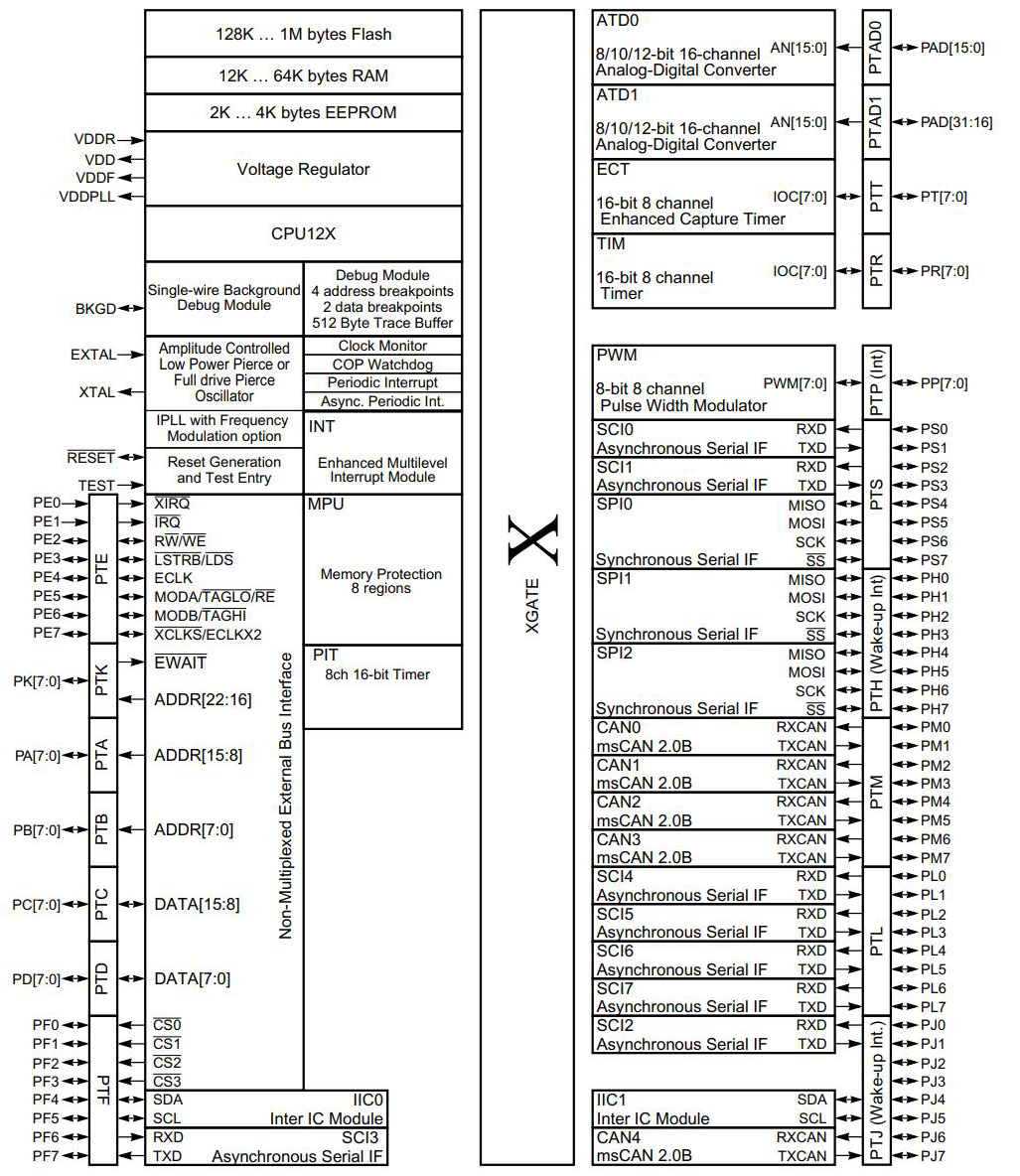 The MC9S12XET256MAL is a prominent microcontroller that belongs to the MC9S12X family by NXP (formerly Freescale). Primarily known for its integration, robust performance, and versatility, this microcontroller finds application in a multitude of scenarios.
Features of MC9S12XET256MAL:
- Core: HCS12X core, 16-bit performance.
- Memory: 256 KB Flash memory and 12 KB RAM.
- I/O: Numerous GPIO pins, multifunctional, and highly configurable.
- Timers: Enhanced Capture Timer, Real-time interrupt.
- Communications: Multiple SCI, SPI, and CAN modules.
Application Scenario: Simple UART Communication:
Imagine creating a UART communication module for data transmission between two devices.
1. UART Pins Configuration:
- TX Pin: Connect the TX pin (say, pin 1 for our purpose) of the MC9S12XET256MAL to the RX pin of the receiving device.
- RX Pin: Connect the RX pin (say, pin 2) to the TX pin of the transmitting device.
2. Power and Grounding:
- VDD: Connect the power pin (pin 3) to a 5V source.
- VSS (Ground): Connect the ground pin (pin 4) to the system ground.
3. Programming Pins:
- For programming/debugging purposes, use the BDM (Background Debug Module) interface.
- BKGD Pin: Connect the BKGD pin (pin 5) to the debugger's BKGD.
- RESET Pin: Connect the RESET pin (pin 6) to a momentary push button (which also connects to the ground) to reset the microcontroller.
4. External Oscillator (Optional):
- EXTAL: Connect an external crystal oscillator to EXTAL (pin 7).
- XTAL: Connect the other end of the crystal to XTAL (pin 8).
Circuit Design Considerations:
- Decoupling Capacitors: Always use decoupling capacitors near the VDD pin to prevent high-frequency noise.
- Communication Baud Rate: Ensure both transmitting and receiving devices operate at the same baud rate for UART communication.
- Protection: Consider adding ESD protection diodes, especially if the I/O pins interface with external devices.
- Programming: Ensure the MC9S12XET256MAL is programmed with the right firmware for UART operation and correctly communicates at the set baud rate.
In essence, the MC9S12XET256MAL exemplifies the integration of modern microcontroller capabilities into a compact and efficient package. Whether used in automotive controls, industrial applications, or sophisticated communication systems, its versatility remains undeniable.